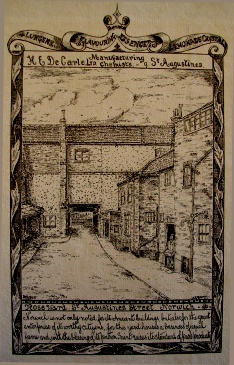 De Carle's Works, Rose Yard, St Augustine's, Norwich
Design drawn by A. G. Browne (dated February 1945) for use in advertising chemists H. E. De Carle Ltd's medicinal products, including the cough mixture Lungene and its fruit-flavoured mineral waters and lemonade. The Works occupied the buildings seen on the right side of the yard here as well as the building above the coaching arch. These are now occupied by Coleman Opticians, all except the three-storey building on the right, which no longer exists. The building on the left of the arch was occupied by the Rose Inn. It still stands though the pub itself closed long ago.

The text reads:
Norwich is not only noted for its Ancient buildings, but also for the great enterprise of its worthy citizens, for this yard houses a business of equal fame and, with the blessing of its patron saint raises its standard of pure products.
Image courtesy Colemans Opticians